It's finally here- the much anticipated 802.11n wireless USB adapter from Alfa with 500mW of output power! The model number is AWUS050NH.
For the last two years, whenever someone has asked what is the best wireless adapter available for long range use, we have always said without hesitation the 802.11g 500mw adapter from Alfa- model AWUS036H. Of course now that the latest wireless standard 802.11n is available, we have heard many people say "wow, I sure wish Alfa would develop an 802.11n-compatible high powered adapter!"
They have, and they have done one heckuva job too. With the new Wireless-N AWUS050NH model, you sacrifice no power- you get the same stunning 500mW that came with the 802.11g model, but you get a built-in print antenna which altogether allows the device dual-band functionality (also works with the 802.11a standard), MIMO capabilities, and 802.11n compatibility. 802.11n offers speeds up to 300 mbps and ranges up to 6X greater than standard 802.11g devices (faster speeds and longer ranges require use with an 802.11n standard router or access point- this is backward compatible with 802.11g but will perform like the AWUS036H model when used with an 802.11g standard router).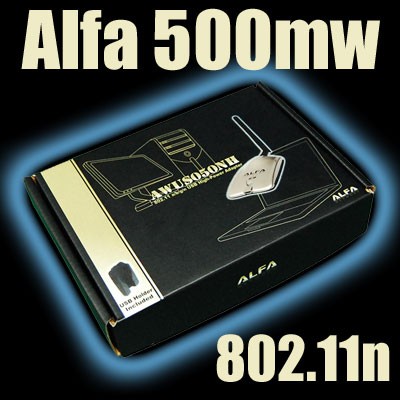 Alfa also demonstrated why they are the #1 manufacturer of long range wireless networking technology- they have added a bonus mounting holder that you can use to easily mount the device on any window and even the back of most laptops. A simple suction cup on the back means easy transfer of the mounting holder from one place to another, no messy residues from adhesives, and no tricky screw or bracket devices that require installation.
The AWUS050NH 500mW 802.11n long range WiFi adapter from Alfa is simply the "everything" adapter. It works with virtually all modern operating systems, any computer (laptop or desktop) with a USB port, and ALL FOUR major wireless standards- 802.11a, 802.11b, 802.11g, and 802.11n. It is portable yet powerful, 500mW of max output power means you can actually take advantage of high gain outdoor antennas.
And best of all, we've got the adapter at a low introductory price, so grab one now, these will no doubt be sold out and on backorder soon due to extremely high demand.